The Rebound Ball hosted by the Charlottesville Regional Chamber of Commerce
The Rebound Ball hosted by the Charlottesville Regional Chamber of Commerce - December 2, 2020, 5:30-7pm

Looking for the event access link? Registered attendees received an email from Andrea Copeland-Whitsett at 4:02pm today: Event Access for Tonight's Rebound Ball. If you need help accessing the event, please call 434.295.3141.

This year, the Chamber's annual celebration of the business community will close out 2020 with a virtual gathering inspired by the positive energy of Project Rebound.

We look forward to sharing stories of transformation, mutual support, innovation and true grit from our local businesses.

Featured speaker Priya Parker will join Chamber President & CEO Elizabeth Cromwell for a virtual "fireside chat" about meaningful gatherings in the age of COVID. Parker is a master facilitator, acclaimed author of The Art of Gathering: How We Meet and Why it Matters and the host of the New York Times podcast, Together Apart.

Your event ticket includes:
Free e-book copy of The Art of Gathering
Choice of optional Pre-game Sessions – Choose a 25-minute social experience before the main event.
Cooking Demo with Chef Antwon Brinson: Learn how to prepare

Sweet Potato

Tempura with a Pineapple Curry Sauce (click here for ingredients)

Virtual Challenge with Triple C Camp: Teamwork and games

led by Program Director Kasey Massih

Fast Break Networking: Connect in small group breakouts with several rounds of conversation prompts
2020 Chamber Awards
We look forward to sharing the inspiring stories of determination, innovation and collaboration as we present this year's Chamber awards.
2020 Chamber Business Leader of the Year:
Liza Borches, President and CEO of Carter Myers Automotive
Christopher Lee Small Business Person of the Year: Sober Pierre and Javier Figueroa-Ray, Pearl Island Café and Catering
Alley-Oop Awards:
Quinton Harrell, Heritage United Builders, and Wilson Richey, Ten Course Hospitality
Pivot Awards: Animal Connection, Bright Ideas, Brooks Family YMCA, Chick-Fil-A at Fashion Square, Culinary Concepts AB, Jefferson Area Board for Aging (JABA), King Family Vineyards, Michie Tavern, Virginia Institute of Autism (VIA)
Sponsorship Opportunities
Bring your team to the Rebound Ball! This year's sponsorships include 8 event tickets – along with great visibility before, during and after the virtual event.
Learn more about sponsoring the Rebound Ball
Sponsorships and ticket sales for the Rebound Ball support the Chamber's work on behalf of our entire business community. Thank you!
For more information on this Speaker please visit
prhspeakers.com
.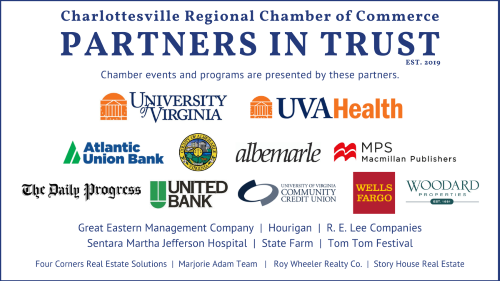 Date and Time
Wednesday Dec 2, 2020
5:30 PM - 7:00 PM EST
Location
Delivered virtually
Fees/Admission
$50 General Admission Tickets - Members
$60 General Admission Tickets - Nonmembers
---------------------------------------------------------------------
Sponsorship Opportunities (includes 8 event tickets):
$5,000 Center Court Sponsor
$2,500 Coach's Circle Sponsor
$1,500 Courtside Sponsor
$800 Fan Club Sponsor
Click here for sponsorship details
Contact Information
Andrea Copeland-Whitsett
Send Email