LCAA Membership Breakfast, Leaders' Leader & Community Leadership Awards



Open to all graduates of the Leadership Charlottesville program from 1982 to 2019, LC Class of 2020, and guests.

The event will include:
Keynote Address by Interim CEO of UVA Medical Center, Dr. Chris Ghaemmaghami

Leadership Awards Presentations*

Networking

LCAA Board/LC Updates

Director Elections

Other Recognitions
*Congratulations to Andrea Copeland-Whitsett LC'13 on being selected the recipient of the 2020 Leaders' Leader Award and Emily Martin LC'19 on being selected the recipient of the 2020 Community Leadership Award.
We encourage LC grads to make a $25 or $40 contribution in addition to registering for the breakfast. These funds will go directly towards scholarships for 2021 Leadership Charlottesville applicants.
No refunds after January 10.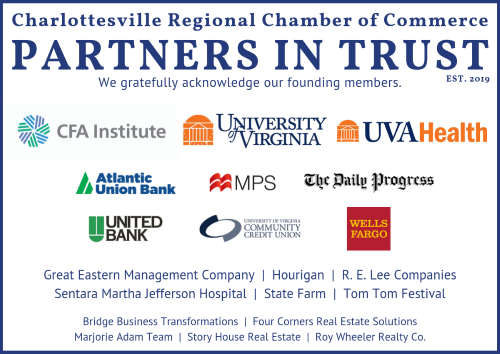 Date and Time
Wednesday Jan 29, 2020
7:30 AM - 9:30 AM EST
Wednesday, January 29
7:30am - 9:30am
Location
Farmington Country Club
1625 Country Club Circle
Charlottesville, VA 22901
Fees/Admission
No refunds after January 10.

Breakfast Only:
$25 LCAA and Class of 2020 Members, non-LCAA member / guest

Breakfast + Membership Dues/Scholarship Contributions
$50 or $65 LCAA and Class of 2020 Members
Contact Information
Andrea D. Copeland-Whitsett
Send Email