Business Women's Round Table - Leadership Lessons with Jennifer Jacobs
This month we continue with our Leadership Lessons speaker series. We'll have some of the most distinguished professional women in the Charlottesville area to share with us their most important leadership lessons. You will no doubt come away inspired and motivated.

Speaker: Jennifer Jacobs, Executive Director, AHIP

Jen joined AHIP in April 2006 as Director of Resource Development, and in 2009, she became Executive Director. Jennifer has more than 20 years of experience in fundraising, communications, and membership, having worked for a variety of non-profit arts, social services, housing rights, and public interest organizations in Washington, D.C., New York City, and the San Francisco Bay Area. Prior to joining AHIP, Jen served as Development Director for the National Housing Law Project, a national housing rights organization based in San Francisco. Jennifer grew up in Maryland and earned a B.A. in Communication from James Madison University. She lives in Albemarle County.

The Business Women's Round Table (BWRT) was founded in 2004. Its purpose is to honor, engage and inspire each other so that we elevate women's professional presence. By doing so, we drive business, economic and community development in the Charlottesville region.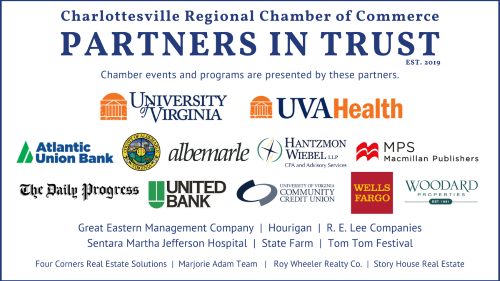 Date and Time
Thursday Feb 18, 2021
12:15 PM - 1:30 PM EST
Meetings held the 3rd Thursday of every month unless otherwise noted
Location
via Zoom. You will receive a unique link to join the meeting upon the completion of your registration.
Fees/Admission
Free to attend
Contact Information
Andrea Copeland-Whitsett
Send Email